The Challenge: Managing Your Email Reputation
Migrating your subscriber list to a new Email Service Provider is critical to your email marketing success:
Shared IP – If you're a small email-sender moving to a new Email Service Provider (ESP) on a shared IP address, a few complaints can get you disabled and even fired by the vendor.
Dedicated IP – If you're a large email-sender moving to a new Email Service Provider (ESP) on a dedicated IP address, you must warm the IP by ramping up your sends and minimizing any risk of abuse reports that will hurt your IP reputation and get you blocked or sent to the junk folder on major Internet Service Providers (ISPs).
Designing an IP Warming strategy when migrating to a new Email Service Provider is critical to your email deliverability. A great IP Reputation ensures your email marketing is more likely to reach the inbox!
The Process: IP Warming
In order to minimize issues in the migration of your subscribers to your new Email Service Provider (ESP), you must warm when onboarding your subscribers and initial sends to create a reputation with your new ESP and the ISPs receiving your email:
Subscribers have a history of engagement both internal to your organization and external with other services. Internally, you want to send to your subscribers that most likely to open and click your messages. Activity will increase the likelihood that Internet Service Providers (ISPs) will view you as a valid email sender and not a spammer.
Externally, some email addresses in your data will be spam traps that will sink your reputation. Additionally, some email addresses will be known to bounce and must be removed before sending your initial campaigns. We fully cleanse your email lists for you so that you can update your source data.
Whether you're a B2B or a B2C sender, the domains that you are sending to play a role in the likelihood that emails will be received. Our proprietary intelligence engine provides information on what services they are using and the likelihood of it introducing problems for your IP Warming.
Even after cleansing, segmenting, and prioritizing your subscribers, you still need to parse and schedule your campaigns to ensure the cleanest and most engaged subscribers are emailed first – by Internet Service Provider (ISP) – with enough subscribers to validate your reputation.
The Solution: IP Warming Intelligence
IP Warm simplifies the IP Warming process and increases the likelihood your company will emerge with a great reputation and inbox placement. The steps are simple:
Step 1
Upload your subscriber list. For improved results, include optional last click and last open data for each subscriber.
Step 2
We process your data against our intelligence database, return your cleansed subscriber data, and determine your optimized IP Warming campaign schedule.
Step 3
We send your data, reporting, lists, and recommended campaign schedule.
Step 4
We include a seed list to monitor your inbox placement for 30 days following your IP Warm campaign execution.
The Results: IP Warming Intelligence
Here are actual results from a recent client who utilized our IP Warming process, including the inbox placement rate by Email Service Provider and across all Email Service Providers.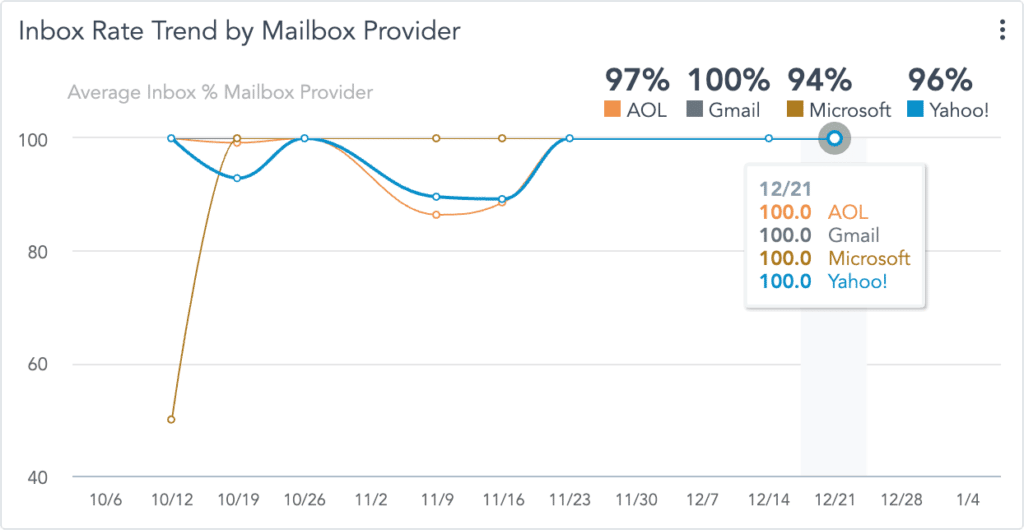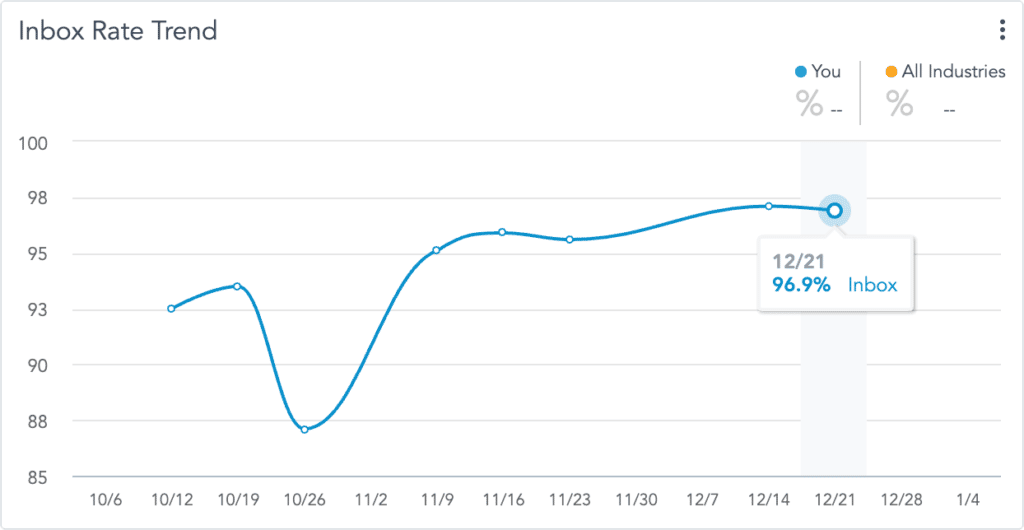 If you would like to have an initial consultation regarding your IP Warming strategy or require a statement of work (SOW) or Invoice option for payment, please contact us directly.
Order Now!
Deliverables:
Campaign files and proposed schedule
File of all records and email cleansing status
We have an invoice method for payment as well.
With IP Warm, we were able to easily migrate our client from Marketo to Marketing Cloud. We removed all problematic email addresses, had IP Warming campaigns running within hours of receiving the extracts, and had their reputation on their new IP address within weeks. We saved hundreds of hours and their inbox placement and response rates exceeded all expectations.
, VP of Highbridge